Dentures - North Hollywood, CA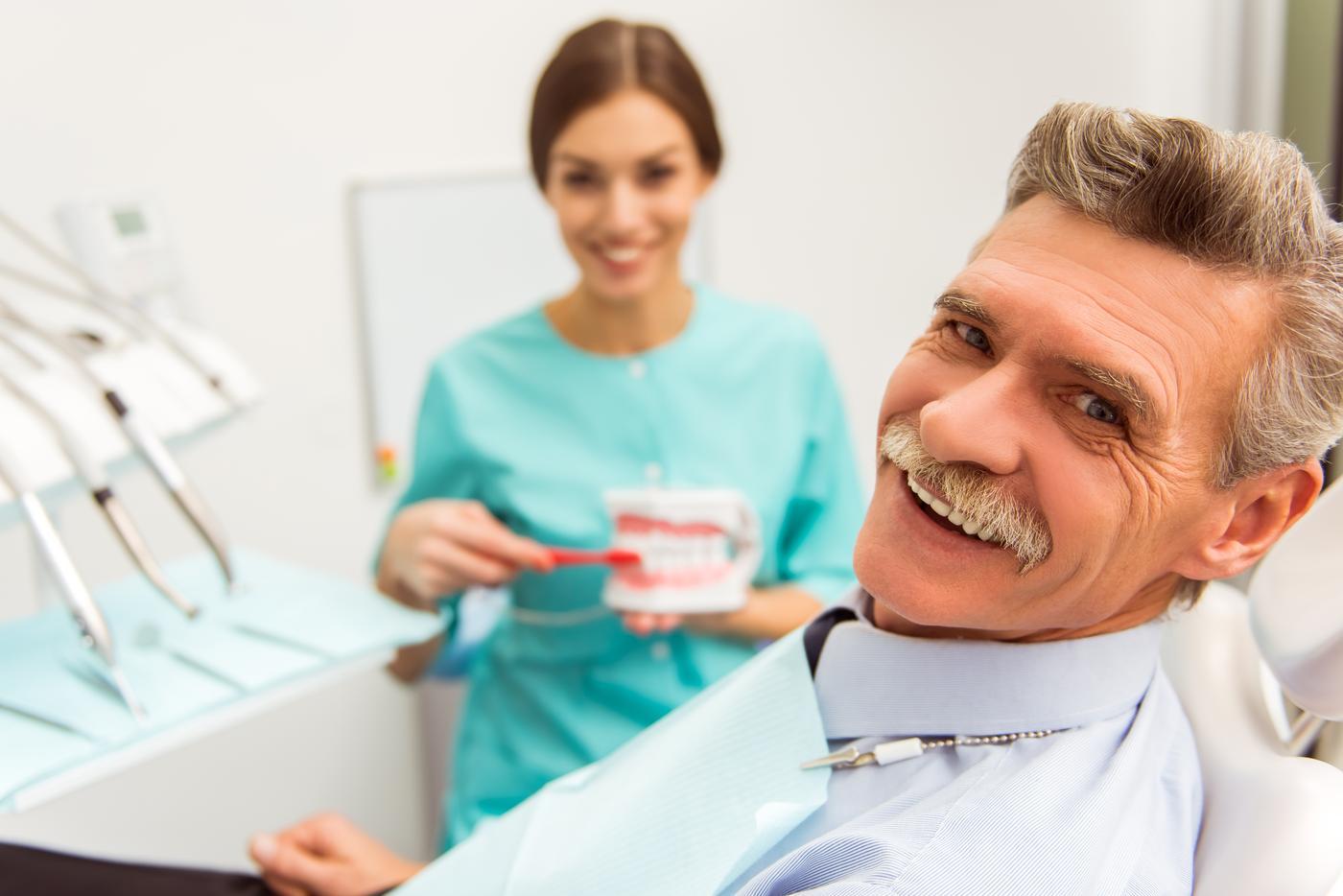 Missing Teeth?  Here at Canyon Family Dentistry, we specialize in providing affordable full, partial, and implant dentures for patients.   While many dentists have to refer out patients looking for this service, our team's advanced training with "false teeth" allows us to offer several cost-effective denture options in North Hollywood and restore the appearance of your smile.
Dentures are removable artificial teeth.  Dentures can be partial or full.  After tooth loss, dentures can restore your ability to eat and speak.  They provide a natural looking smile while enhancing your facial appearance.  
Dentures are made of various materials to simulate the appearance of your natural teeth and gums.  Your dentist will specifically match the color of your teeth and gums to that of your custom made dentures.  Professionally made dentures are composed of premium long-lasting products, low-staining teeth, and high impact acrylic bases.  With proper care, your dentures should last for a very long time.


 
Dentures come in top and bottom pieces.  You may wear upper, lower, or both upper and lower dentures.  There are various types of dentures including conventional full dentures, intermediate full dentures, partial dentures, and overdentures. 
 
Conventional full dentures are appropriate for people that have lost all of their teeth on their upper or lower jaws.  Conventional full dentures may be worn after your teeth have been extracted and your gums have healed.  Healing can take several months.  During the healing period, you are without teeth.
Intermediate full dentures are another type of a complete denture.  Intermediate dentures are worn after your teeth are removed and while your gums heal.  This type of denture does not involve a period without teeth.  Intermediate full dentures require dental visits before your tooth extraction to plan and fabricate the dentures.  It may also require appointments after the initial fitting for adjustments to achieve an ideal fit.
Partial dentures are removable replacements for a series of extracted teeth.  Partial dentures are held in place by attachments to adjacent natural teeth.  The adjacent teeth are typically crowned to increase stability.
Overdentures are another denture option.  Overdentures are removable artificial teeth that fit over existing natural teeth or implants.  Overdentures are used to replace a small number of teeth.  The underlying natural teeth are shaped to support and stabilize the overdenture.
Symptoms
You may be a candidate for dentures if you have missing teeth.  Many people need dentures after experiencing severe tooth decay and periodontal (gum) disease.  Full dentures are used if you have lost all of your teeth.  Partial dentures are used if you have remaining teeth.
Diagnosis
Your dentist can evaluate if you are a candidate for dentures by examining your teeth, gums, and jawbone.  Your dentist will check for signs of gum disease and decay.  X-rays will be taken to determine the health of your teeth, gums, and bones.
Treatment
The type of denture you receive is based on several factors, including your oral health, number of remaining teeth, and personal preferences.  You will also need to determine the attachment method that you want.  Your dentist will help you select the most appropriate options for you.
 
People with good bone integrity may be candidates for dental implants.  Dental implants are surgically placed metal anchors that attach to replacement teeth.  They provide stability while preventing sliding.  Dental implants are an option for full dentures, partial dentures, and overdentures.
 
Partial dentures and overdentures are held in place with attachments to adjacent teeth.  The attachments are usually made of metal.  The adjacent teeth are frequently crowned to provide support and stability.  Your natural teeth serve as a base from underneath the overdentures.
 
Full dentures can be held in place without the aid of special attachments.  The natural moisture in your mouth forms a vacuum to hold your dentures in place.  If your dentures slip or slide, denture adhesive can help.  If your dentures slip or slide too much, you should contact your dentist to have them adjusted.
 
The amount of time it takes before you wear your new dentures depends on the type of dental procedures you need and the type of denture you select.  The process typically takes a month, but some people may need more appointments than others.  Expect a longer length of time if your gums need to heal after tooth extraction or if you receive dental implants.
 
Dentures are created in the process of several dental appointments.  The initial process involves making impressions of your teeth, gums, and jaws to fabricate a model to use for creating your dentures.  Your dentist will have you bite on a piece of wax to record your bite pattern.  Your dentist will determine the color of your teeth and gums.  Your new dentures will match these colors to create a natural looking smile.  When the initial process is completed, the molds, bite pattern, and color specifications are sent to dental lab that will custom make your dentures.
 
Usually the dental lab will make a trial set before fabricating the final set of dentures.  This allows your dentist an opportunity to check how the dentures fit and function in your mouth.  The final dentures are made at the dental lab and sent to your dentist's office.
 
It may take you a while to get used to wearing your new dentures.  You may need to practice eating and speaking.  Let your dentist know if your dentures hurt, slip, or cause sores.  Your dentist will gladly make adjustments.
 
Initially, it may be easier for you to eat soft foods and foods that are cut into small pieces.  Concentrate on chewing with both sides of your mouth.  This puts even pressure on your dentures.  Avoid eating chewy or sticky foods until after you get used to your new dentures.
 
You should brush your gums and dentures daily to remove plaque.  Use cool or warm water to avoid disfiguring the denture material.  Dentures should be cleaned with a moistened soft denture brush or soft toothbrush.  Ask your dentist to recommend a denture cleaning product.  Denture cleaning paste is commonly used.  Do not use toothpaste, bleach, or other household cleaning products.  Prevent your dentures from drying out at night.  When they are out of your mouth, soak your dentures in water or a denture cleanser. 
Take care when handling your dentures.  They are fragile and can break.  It is helpful to remove and insert your dentures while leaning over a folded towel placed on your vanity or a full sink of water.  This can reduce the impact if you accidentally drop them.
Report any denture-related problems or discomfort to your dentist.  Your dentist is happy to make denture adjustments quickly.  It is common for dentures to need adjustments overtime because your jaw changes shape as you age.  Some people may need to have more than one set of dentures made in their lifetime.  Overall, dentures can last a very long time with good care. 
Schedule A North Hollywood Denture Consultation
To learn more about our tooth replacement solutions, contact us online or call our dental office at (818) 765-4422. Our team can discuss with you in detail our several different types of North Hollywood denture treatment options available to help you make an informed decision about your smile and oral health.

Canyon Family Dentistry - North Hollywood
12926 Sherman Way
North Hollywood, CA 91605