Dental Implants - North Hollywood, CA
Canyon Family Dentistry has been recognized as a leading provider of high quality dental implants to residents of North Hollywood and the surrounding communities. We specialize in both the surgical placement and restoration of implants.  With extensive implant training, our implant specialists skillfully provides the proper, safe delivery of dental implants.  Whether it's a single implant or full arch replacement, we use 3D imaging and advanced computer guided surgeries to obtain the very best results.  Our implant surgeons also uses continuing education to utilize the most cutting edge techniques and ensure patients receive the highest quality of implant treatment.  Take back your smile and eat your favorite foods with confidence and zero pain with durable, convenient and permanent implants from the best implant dentist in North Hollywood!
Dental implants are a beautiful natural-looking solution for missing teeth.  They are the modern-day treatment of choice for tooth replacement.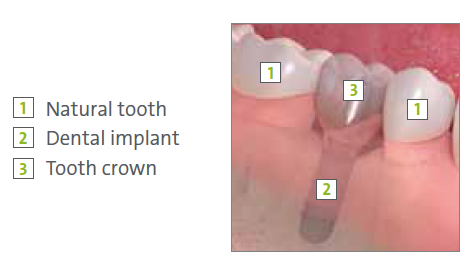 Dental implants are surgically placed in the jawbone.  They serve as anchors for the attachment of replacement teeth, crowns, and partial or full dentures.  Unlike dentures, there is no problem with slippage, so you can eat, speak, and smile with confidence.  Overall, most people find that dental implants are comfortable, convenient, and improve the function and appearance of their teeth.
Dental implants may be an option if you are replacing a tooth or receiving a crown, partial dentures, or full dentures.  Dental implants are not for everyone.  Candidates for dental implants need to have healthy gums and bones to support the implant.
Diagnosis
Your dentist can evaluate if you are a candidate for dental implants by examining your teeth, gums, and jawbone.  Your dentist will check for signs of gum disease and decay.  X-rays and CT scans will be taken to determine the health of your teeth, gums, and the availability of bone.
Treatment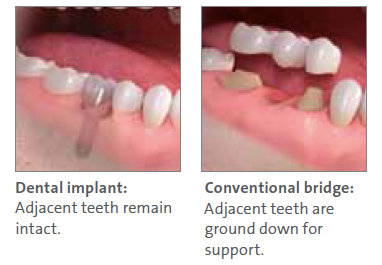 Dental implant procedures require a series of appointments.  It usually takes from three to nine months for the process to be completed.  Dental implant surgery can take place in a dental office or a hospital as an outpatient procedure.  You will receive a local pain reliever or be sedated for the surgery. 
Surgery is required to place the dental implant in the jawbone.  In some cases, a series of implants are joined together by a support bar.  The bar provides security and stability for a full denture.  After surgery, you will receive pain medication and antibiotics.  You will initially need to eat a soft diet and refrain from strenuous activities.
It may take up to six months for your bone to fuse with the implant.  After healing has taken place, your dentist will attach your crown or denture to the dental implant.  This process may require several adjustments to achieve a good fit.

Your dental implants can last a lifetime with good oral health care.  Our dentist will monitor your progress and design a maintenance program specifically for you.  Make and attend all of your dental appointments.  You should also brush and floss on a regular basis.  Dental implant surgery is a highly successful procedure.
Contact Our North Hollywood Implant Dentist Today
To learn more about our North Hollywood dental implant treatment options, contact our office. Dr. Hersel Hanasab will help you determine whether you are a good candidate for dental implants or help you explore your other restoration options. We provide a calm and welcoming environment in our office, sedation dental options, and personalized care to ensure that your visit to us is as comfortable as possible.
Canyon Family Dentistry - North Hollywood
12926 Sherman Way
North Hollywood, CA 91605